1627 South Orchard, Suite 24, Boise, Idaho 83705
208-345-7178
'DOORS OF BOISE' Posters
We carry a limited number of the 'Doors of Boise' posters for sale. These popular posters measure 24"x36" and are signed and numbered. The poster is printed in warm beige, heather green and fire engine red on quality white posterboard. The posters depict 15 historical entry doors in and near downtown Boise.
Individual posters retail for $30.00 USD plus shipping and handling. Quantity discounts are available.
Contact us for inquiries on poster purchases.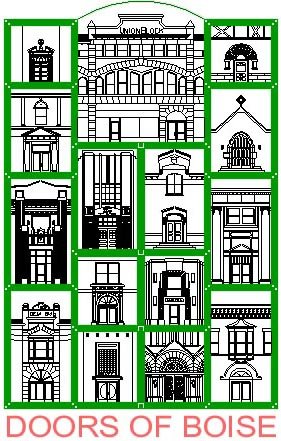 Associates are certified by the National Council of Architectural Registration Boards (N.C.A.R.B.)
And are licensed in several western states.
UNAUTHORIZED REPRODUCTION WILL BE PROSECUTED
© Copyright 2002 - 2008 AP&D Group. All rights reserved.